You might be inclined to think there's nothing to do in Trumansburg, but you would be happily mistaken!  Mia's Lakehouse has plenty to do while you're at the house, and if that gets old, there are a host of nearby attractions.
---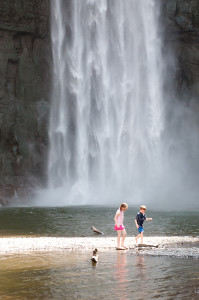 1.  Taughannock State Park is a quick mile away.  It features a flat 3/4 mile hiking trail along the creek that flows from Taughannock Falls.  Kids especially love the experience of wading through the water.  There's also a rim trail for more serious hikers, a life guarded swimming area, a huge playground, and a boat rental kiosk.
2. Ithaca State Parks.  After you've explored Taughannock, it's worth checking out Treman State Park, Buttermilk Falls State Park and Ithaca Falls which are all within a 20-30 minute drive.
3.  Cass Park features a flat walking trail along the inlet that's great for scooters, bikes and running.  Cass Park also has a swimming pool and several playgrounds.  Cass park is about 15 minutes away.
4.  The Ithaca Science Center has a huge outdoor play structure and a building full of exhibits.   They take many reciprocal memberships so that's worth checking out if you're a member elsewhere.
5.  Cornell University and Ithaca College are approximately 30 minutes away.  Many of our guests come for the colleges!  Cornell graduation weekend and Ithaca College graduation weekend are especially popular at the lake – be sure to book early!
---
Hungry?  There are plenty of options!  Mia's Lakehouse is 5 minutes from Shursave Grocery Store so you don't have to bring your groceries.  We also highly recommend the Falls Restaurant in Trumansburg and Glenwood Pines a few miles down 89 for some local flavor.  Then of course, there's the famous Cayuga Lake Creamery for dessert.
---